Summer Wedding Ideas at The Butterfly Pavilion
It's officially Summer and that doesn't mean a break for the wedding industry. In fact, Summer is a great time to get married! With the beauty of nature's blooms all around, the bright color palettes you can use, and the beautiful weather, there are tons of reasons to get married in the Summer! If you're thinking about being, or planning to be a Summer bride, check out these tips on how to customize your Summer wedding at The Butterfly Pavilion.
With Summer bringing the beauty of nature and beautiful weather together, it's best to have your wedding outside. However, a completely outdoor venue might start to get a little hot once the ceremony is over. Choosing a venue where you can have the ceremony outside, while still having a spot to cool off indoors or in the shade makes for the best of both worlds. 
Venues like The Butterfly Pavilion are perfect for Summer weather; offering a place to hold the ceremony outdoors and the reception indoors, it's hard to find anything better!
The color palette you choose for your Summer wedding can be almost anything you want! We want to stick to pastels and bright colors, of course, but within these palettes, you can choose any colors you want! Summer weddings can be a little more fun and whimsical if that's the kind of style you're looking for. 
If you're looking to go for a more natural look, try using shades of green and adding a neutral or a pop of color to your palette.
Your wedding decor can also be really fun for your Summer wedding. Centerpieces can incorporate bright colors, woodsy accents, or modern touches. You can set up relief stations with bug spray, cold towels, and cute flip flops for the reception. A bar is never a bad focal point during the Summer, so fix up an antique piece to go with your color palette and stock it up. You can never go wrong with adding lights to your Summer wedding, especially if you're planning to have a late reception. Lastly, decorating your Summer sendoff with sparklers is a bright and beautiful way to leave your big day.
With Summer comes so many beautiful, natural blooms that it's almost hard to choose the flowers you want to incorporate into your wedding day. One thing to keep in mind, especially if you're getting married outside, is the flowers around the venue. You'll want to make sure, first and foremost, that you don't get flowers that will clash with the natural scenery during your ceremony.
If you're wanting to go bright on your big day, choose flowers such as peonies, zinnias, hydrangeas, and freesia. If you like a more classic look, sunflowers, daisies, and calla lilies are flowers that have stood the test of time and are beautiful Summer wedding accents. For a more pastel look, try going with lavender, larkspur, or peonies.
Lastly, if you want the natural look, mixing different shades of greens and accents of gardenias or baby's breath can be the perfect combination. 
Incorporating a light, fresh menu at your Summer wedding will be your best bet at getting your guests to keep an appetite in the hot weather. Fruits can go a long way as appetizers that'll keep your guests feeling good and that will go with the color palette you choose for your big day. Once it's time for the meal, you'll want to serve chicken or fish as a light meat and some fresh sides like tomatoes, green beans, and pasta or potato salad. Yum!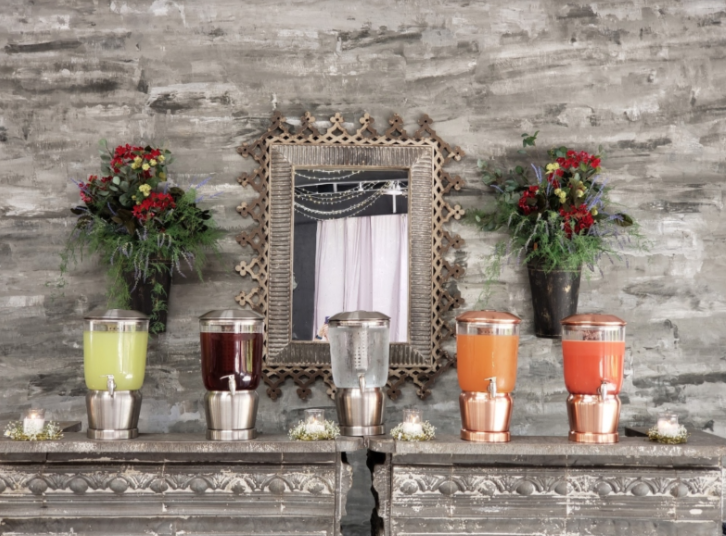 Summer Cocktails & Mocktails
Now, what can we put on the bar we talked about earlier? Some great Summer cocktails are Blackberry Whiskey Lemonade, Bourbon Peach Sweet Tea, or Mai Tai. If you're looking to have more classic flavors, Strawberry Daiquiris, Moscow Mules, or Pina Coladas are all great ideas! You could even turn your bar into a Mimosa station with all the fixins'! There are tons of Summer drink ideas, and you're sure to find something for everyone.
The attire of your wedding party can also be a little different in the Summer than other months. Have your girls wearing bright colors, and maybe even each one in a different colored dress. The groomsmen don't have to wear black either, it's Summer! Have the men wear natural colors, and incorporate pops of the color palette you chose for your ceremony.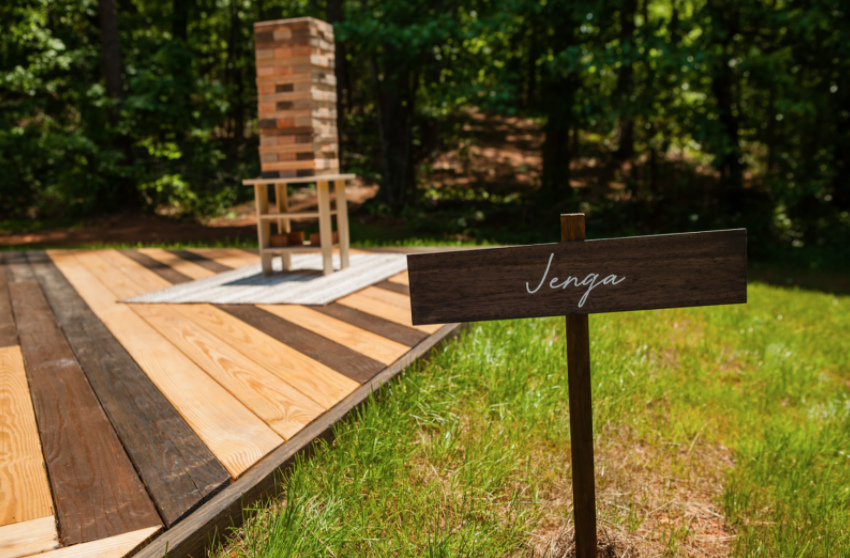 Everyone loves games! Especially in the Summer when the weather is nice. Bring out some games such as corn hole, ring toss, or life size tic-tac-toe. If you want more interactive and competitive games, try croquet, bocce ball, giant Twister, or even different kinds of yard races. Everyone will have a ball playing games, and your wedding will be one they remember for a lifetime! Thinking of including your dog in your special day? Learn tips about including your pup in your wedding!
Finalizing Your Summer Wedding
Summer weddings don't have to be hot and dreary. If you've a few of the things we've mentioned above, your wedding is sure to be a hit no matter what the weather is like outside! So, go ahead and start planning your Summer wedding; it's bound to be a great one!
For questions about our venue, please Contact Us!
Visit us on Facebook!