Wedding Food Ideas, Tips, & Sample Menus
Choosing the food you'll have at your wedding is one of the larger parts of the wedding planning process. It's also going to take up a good amount of your budget, so you want to know exactly what you're doing and what you want before ever actually talking with caterers. If you're unsure of how to start the process of choosing your caterer, you're in the right place! Read these ideas, tips, and sample menus to help you choose the perfect wedding food for your big day.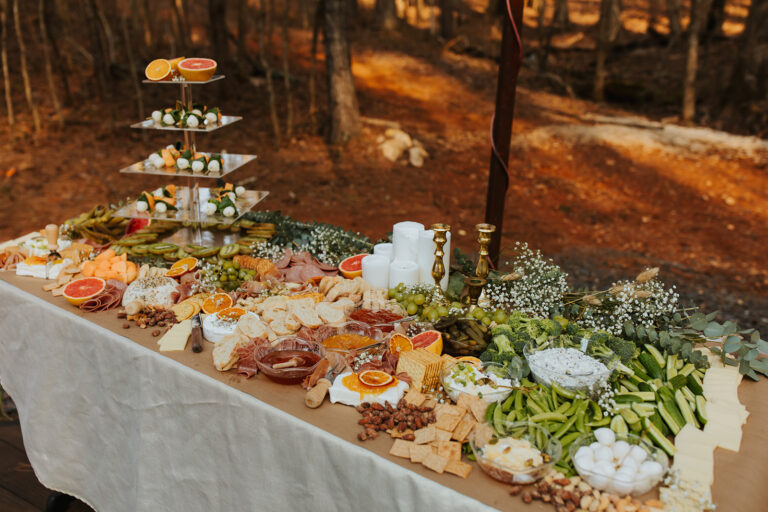 Before you start actually choosing the type of food and caterers you want to serve at your wedding, there are a lot of things to think about and plan. Follow these tips to make sure you have all your ducks in a row before actually making about the food you'll serve.
Figure out a budget. Catering is going to take up a good bit of your budget; prepare for it to take up no less than 20%.

Decide whether you want to buy your own plates, silverware, cups, or any other dinnerware, or whether you want the caterer to provide those things. If you want the caterer to provide them, you'll have to choose one that does. Don't forget to ask!

Some caterers will also decorate tables around the food with pictures of you and your partner. You'll want to ask if they do this as well.

Make sure the caterer you want to use sets up the food in a way you like. Whether that be charcuterie-style, buffet-style, or a plated dinner.

Some caterers require specific needs in the kitchen (ovens, microwaves, ice machines, etc.). You'll want to ask what they need beforehand to be sure the venue you choose supplies it.

Choose food choices that you and your partner like, and think about options that everyone can eat. However, the day is about you, so if you like the food, that's really all that matters!

Caterers should be chosen close to a year in advance. If you are looking for caterers closer to the wedding day than a year, the options you want may not be available.

You'll also want to let your caterer know the number of people who will be in attendance, so they can provide you with an estimate that's close to what you'll actually be paying. 

Don't forget to add the vendors that will still be there to your final guest count number for the caterers. Photographers, DJs, videographers, bartenders, and coordinators should be included in this number.
We're putting food trucks at the top of our list for wedding food ideas because they've become so increasingly popular for their pricing, ease in setup and cleanup, and their modern take on a mixture of buffet/plated dinners. Everyone enjoys a good food truck, and nowadays you can find basically any type of food you want served out of a truck. At The Butterfly Pavilion, we've seen food trucks that serve pizza, barbecue, tacos, burgers, and even waffles! Food trucks also offer a few more options than a traditional menu so everyone can find something they like!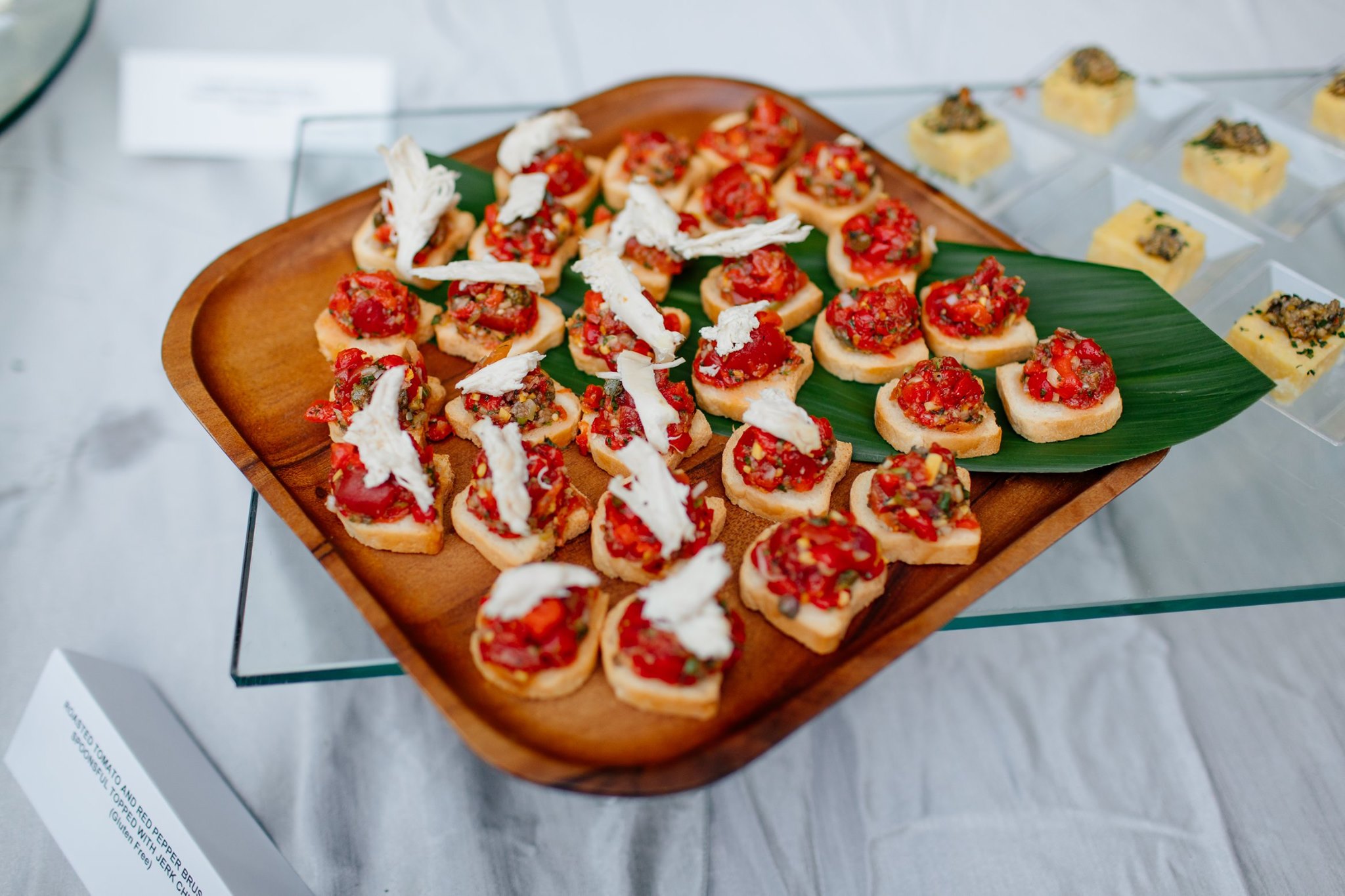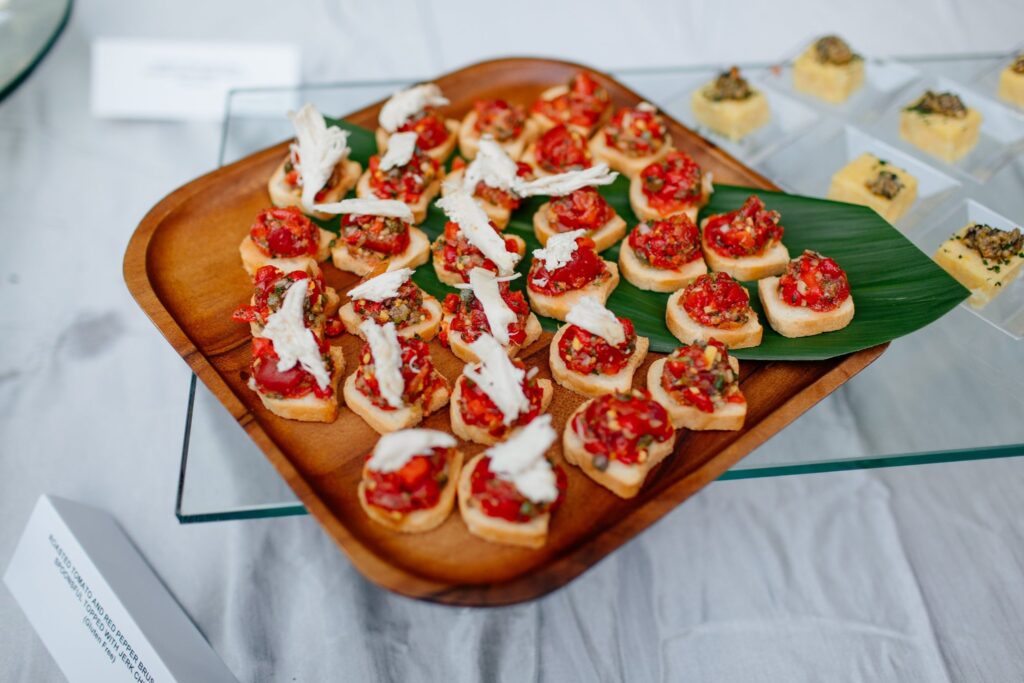 Photographer: DASH Photography
Soul food, southern-style, home-cooking; whatever you call it, it's some of the best and most popular food for weddings these days! Take inspiration from these sample menus for your perfect southern wedding food options.
The Cookout

Main: pulled-pork (with or without buns)

Sides: mac'n cheese, mashed potatoes, green beans

Side substitutes: brunswick stew, potato salad, buttered rolls

Shrimp 'n Grits

Main: shrimp (can also have chicken just in case)

Sides: grits, fried green tomatoes, pickled veggies, hush puppies

Welcome to the South

Main: chicken and dumplings

Sides: grape salad, fried okra, cornbread muffins

Desserts
We understand there are many brides and families who don't want to stray from the way things have always been done. "Why fix what's not broken?" If you want more of a classic or traditional wedding food style, check out these sample menus to bring your wedding back to delicious simplicity. 
Simple, Yet Sophisticated

Main: grilled chicken topped with gravy

Sides: asparagus, mashed potatoes, fresh fruit salad

Side substitutes: broccoli, creamed corn, garlic bread

Sweet & Salty

Main: grilled pork loin topped with roasted apple slices

Sides: brussel sprouts, roasted carrots, side salad

Side substitutes: herb rice, green beans, buttered rolls

Desserts

Classic wedding cake

Classic wedding cupcakes

Macaroons
Build-Your-Own, Buffet Menus
What's the complete opposite of classic, timeless food options? Build-your-own buffet menus are pretty close! With build-your-own menus, your guests can get interactive with their food choices, and there's sure to be something for everyone. Give them an experience they can remember forever with one of these sample menus. 
Pizza

Options: chicken, beef, pepperoni, bacon, sauces, cheese, pineapple, ham, peppers, onions, tomatoes, olives, & spinach

Tacos

Options: shells, beef, chicken, steak, lettuce, cheese, tomatoes, taco sauces, sour cream, avocado, cilantro, pico de gallo, peppers, & onions

Burgers

Options: buns, cheeses, bacon, avocado, tomatoes, onions, lettuce, pickles, fried eggs, grilled pineapple, spinach, coleslaw, mac'n cheese, & sauces

Desserts

Sundae Bar

Donut Bar

Hot Chocolate Bar
During the summer, we want something that will be light on our stomachs, especially if you're having an indoor/outdoor wedding in the Georgia heat. These options for summer wedding menus are perfect for the bride and groom looking to keep things cool and casual.  
First Day of Summer

Main: sweet'n tangy chicken

Sides: roasted veggies, creamy spinach, side salad

Side substitutes: snap peas, butter beans, sweet potato fries

Straight from the Sea

Main: Seasoned trout with mango sauce

Sides: roasted asparagus, mashed sweet potatoes, side salad

Desserts

Blueberry cobbler with ice cream

Strawberry shortcake

Lemon meringue pie

Banana split ice cream
For the exact opposite, during the winter you'll want food that's going to warm your guests from the inside-out. These comforting sample menus are sure to do just that!
Warm Your Soul 

Main: Beef, venison, or chicken chili

Sides: garlic bread and fixin's

Warm Your Heart 

Main: crunchy bacon in potato soup

Sides: rolls and side salad

Staying Inside

Main: Beef Tenderloin

Sides: roasted veggie mix, broccoli with cheese, seared squash

Side substitutes: potato au gratin, herbed cous-cous, garlic green beans

Desserts

Hot chocolate bar

Homemade toffee

Caramel cake

S'mores bar
Have whatever meal you want at the perfect wedding venue: The Butterfly Pavilion! We have a full kitchen in our venue that's open to caterers, plenty of space for all your main courses and desserts, and ample parking for any food trucks! Schedule a tour today. Booking is open for 2023 and 2024. We are proudly locally owned and operated in Acworth, GA and can't wait to work with you! 
Schedule a tour at https://thebutterflypavilion.com/contact-us/ and be sure to follow us on Facebook and Instagram.  wedding food ideas wedding food ideas