Take A Tour of The Butterfly Pavilion - Acworth, GA Venue
The perfect venue might be closer than you think! Just 30 miles outside of Atlanta, Ga, you'll find The Butterfly Pavilion. Sitting on 105 acres of untouched forest, this land was the perfect place to build a one-of-a-kind venue that blends nature's charm with modern-day sophistication. This venue was designed with special events in mind, offering every amenity you could imagine, while leaving room for customization to make your event everything you've envisioned. With room for over 250 guests, all your friends, family, or colleagues will get to experience a perfect day at The Butterfly Pavilion.
The most beloved feature of our venue is the 6,500 square foot pavilion privately nestled in Acworth, GA. With enough room to accommodate weddings, dance recitals, fundraisers, and any other event with up to 250 guests, the pavilion is the perfect place for small to large gatherings. During warm, sunny days, the pavilion is open with the floor to ceiling curtains drawn back along the sides, creating a modern, elegant indoor/outdoor space. During cold or rainy days, transparent covers can be hung from the beams to enclose the space keeping the warmth inside or the inclement weather outside. 
The pavilion includes a grand fireplace and an open floor plan that allows you to get creative in the layout of your event. We do provide custom made farm-style tables and chairs for your use inside the pavilion, and with our neutral color palette inside this space, there's tons of room for customization.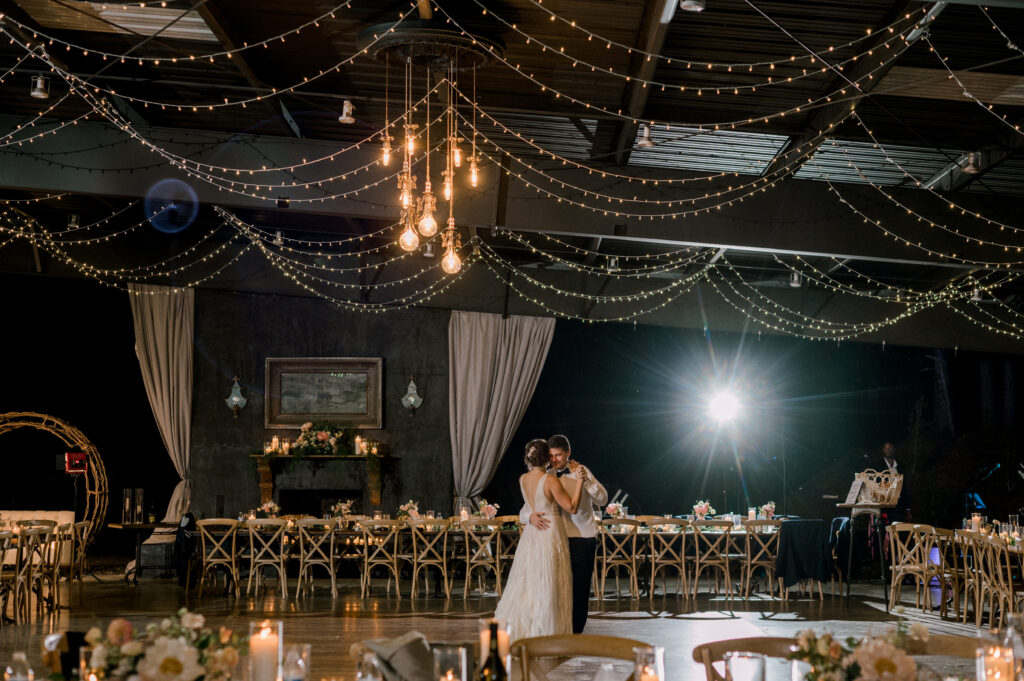 The Dance Floor
You can't get through a big event without at least one dance! Our venue is large enough to accommodate all your guests, as well as a dance floor or staging area!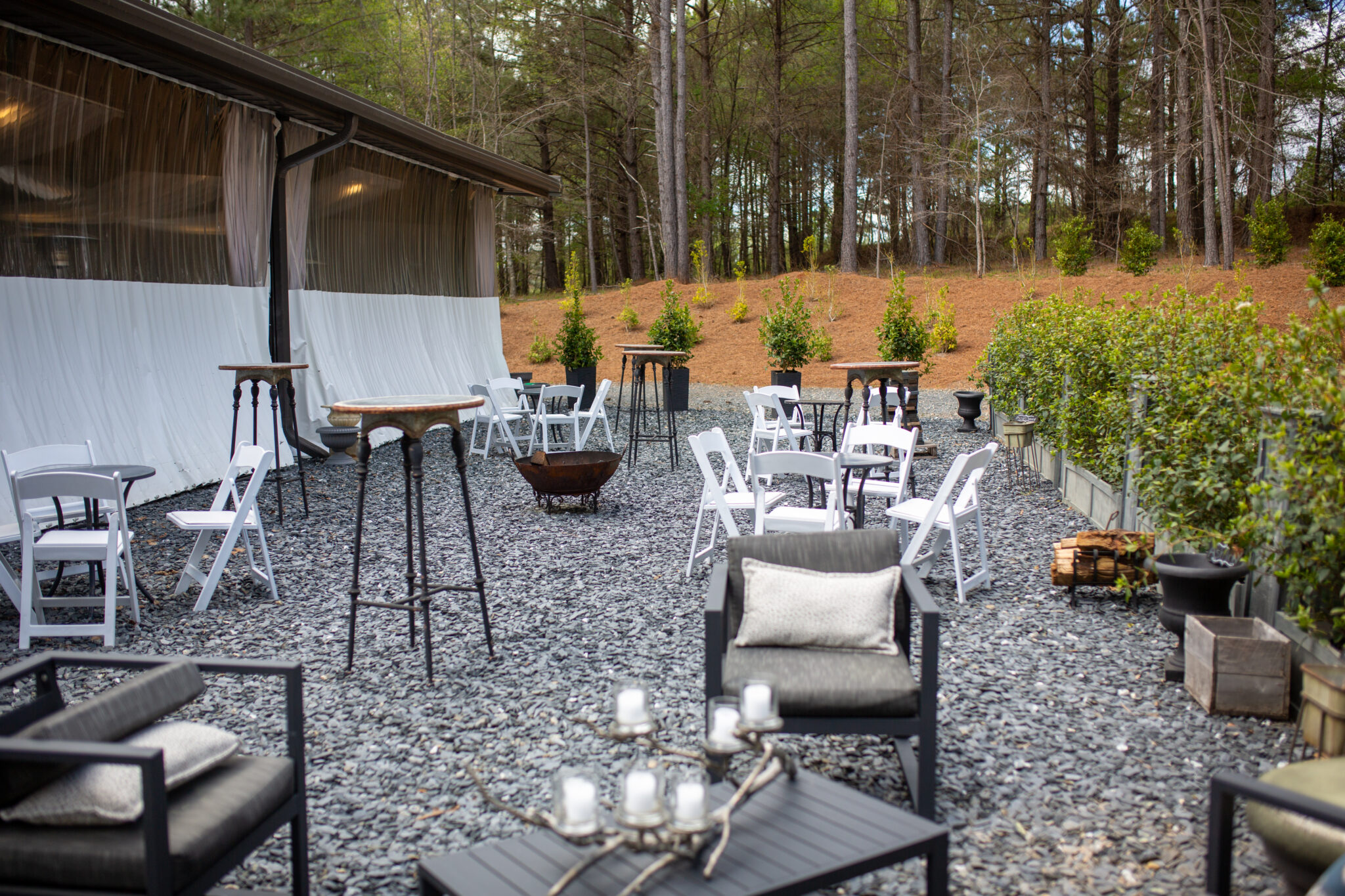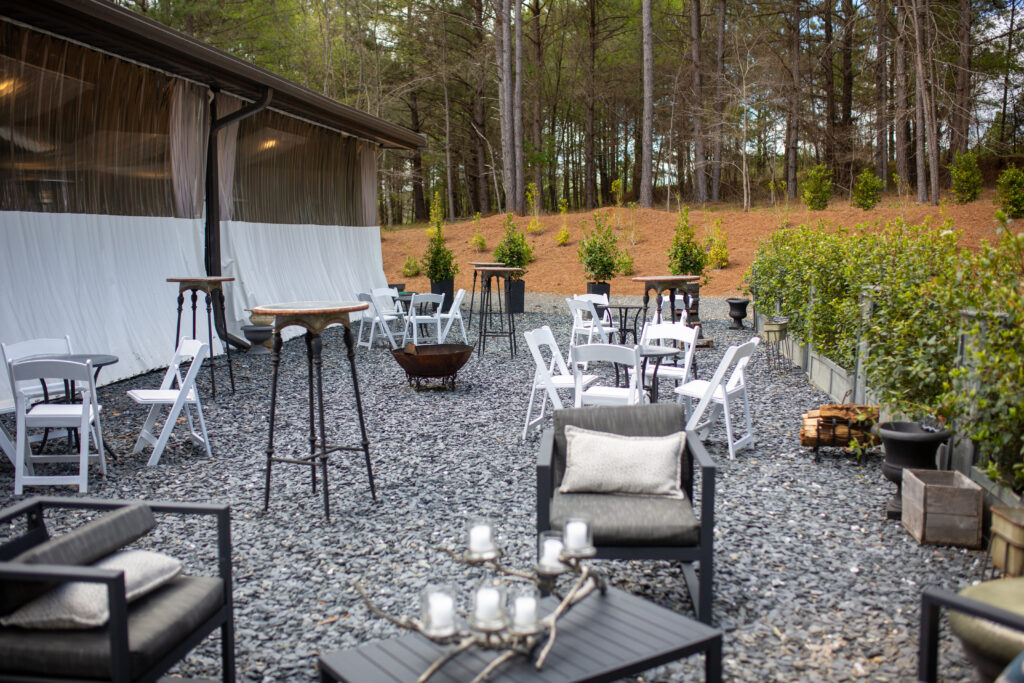 The Cocktail Area
Our venue also includes 3 surrounding patios for cocktail hour, games, campfires, and more. Our patios can serve as a space for guests to take a breath outside your event, or they can serve as a space for guests to wait and prepare for what's to come!
Another beautiful location at our venue is the meadow. Our luscious, green meadow sits below our pavilion, connected by a breathtaking stone walkway surrounded by butterfly gardens. The meadow is the perfect natural location for wedding ceremonies, so if you want an outdoor wedding that will bring you a little closer to nature but can still be customized to your liking, the meadow is the perfect spot for you. 
Every wedding held here begins with a clean slate, and every couple has customized their ceremony in the meadow differently. Decorations are also a must, so feel free to have flowers, vases, columns, and an arch as big and bold as you like, because there is more than enough room for it in our meadow!
Our bridal suite is one of our most popular venue amenities for brides-to-be! With room to hold all the girls and their things while also providing the perfect place to get ready and photo opportunities, what's not to love?
Our bridal suite includes a three sided mirror for the bride to make sure she is looking great from every angle, smaller vanity setups for each bridesmaid to do their hair and makeup, and french-country furniture for perfect photo opps. The large floor-to-ceiling windows allow for natural lighting to pour into the suite, and chandeliers hang from above, adding to the modern sophistication inside the room. Getting ready in this bridal suite is the ultimate way to start your big day!
For the men on their wedding day, we have the groom's suite! With room to get ready, couches to lounge on, and a bar cart to hold the drinks, our groom's suite has got it all! Also, don't worry if you're getting married during football season, because the guys can still get ready and watch the game on the large flat screen TV in the suite. The groom's suite is decorated with the men in mind so that they will feel comfortable getting ready in their own space.
The Starlight Dance Floor
Our starlight dance floor was designed and built with uniqueness in mind, and is the perfect place to share your first dance together as a married couple. Right outside the pavilion, this dance floor is the perfect spot for all of your guests to get their energy out and dance the night away! It also provides an intimate setting, lit by the string lights and the stars, that's a perfect setting for some fun photos. We've also had couples choose to host a cocktail hour on the dance floor! The sky's the limit with customizing our venue.
The Kissing Cove is an intimate area of our venue tucked away in the woods behind the meadow. The Kissing Cove is the perfect spot for first-looks, sharing vows, or just having an intimate moment together before the craziness of the day begins! This spot makes for beautiful photos as well, so many people use it for more than just bride and groom photos, but also take their bridal party photos here. 
The swings are a new aspect of our venue, introduced in mid-2022! The swings are a fun spot for some creative photos, but they're also a great place to escape the noise and have a quiet moment together. Our swings were custom-made to read "Happily Ever After" on the seats, and surrounded by modern bulb lighting and the outstretched limbs of an oak tree, they're the perfect place to relax, unwind, and get some gorgeous photos. Don't worry, you don't have to go far from the pavilion to take advantage of the swings! 
Along with these locations there are also tons of fields with wild flowers, wooded areas, and a long, lighted walkway to exit the pavilion on the grounds of our venue. If you're interested in The Butterfly Pavilion for your wedding or event, contact us! We're booking for 2023 and 2024 now so schedule a tour and hold your date!
We are proudly locally owned and operated in Acworth, GA and can't wait to work with you! Schedule a tour on our website at https://thebutterflypavilion.com/contact-us/ and be sure to follow us on Facebook and Instagram.