How to Create the Perfect Wedding Invitations
While you've probably sent and received plenty of birthday, baby shower, and general party invitations in the past, there's just something different about wedding invitations. These are the invitations for one of the most important days of your life; they're special, and they need to look special! On top of that, there's also a ton of information that has to be included in wedding invitations. How do you keep them looking clean and classy while including all needed information? Follow these tips to create the perfect wedding invitations.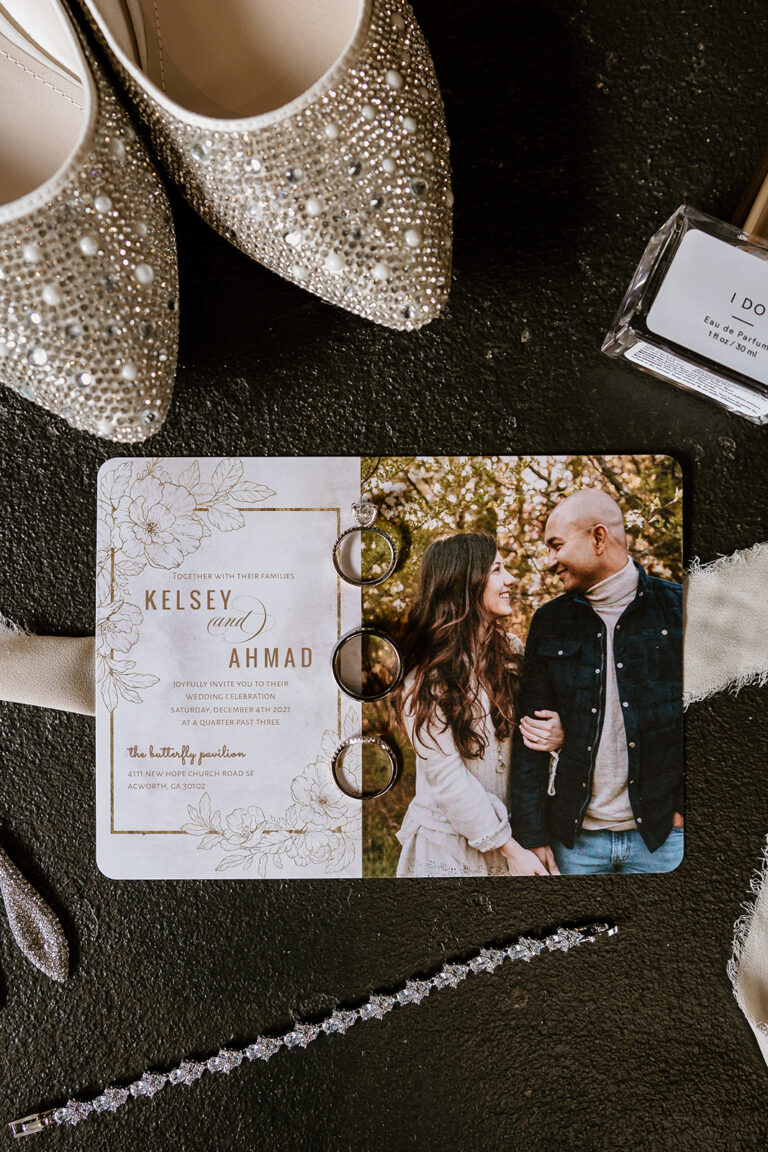 Before we get into the formal invitation, we want to talk about save-the-dates. Your formal invitations won't be sent out until about 1-2 months before your wedding day. Because this is a special event that you want everyone to be aware of beforehand, you'll want to create save-the-dates to send out up to a year in advance. 
Save-the-dates can be just as simple as having a photo, your names, the occasion, and of course, the date that needs to be saved. Nobody expects you to include all the details of your wedding this soon. However, if you want to keep your guests updated as you know more, create a wedding website and include it in the save-the-dates as well.
There's a lot of information to include in your wedding invitations, so creating multiple pieces to send out in each envelope is perfectly acceptable. However, the most important piece is going to be the formal invitation. Formal invitations usually begin with a saying such as:
"Your presence is requested at the wedding of (full name) and (full name)."

"Mr. and Mrs. (bride's parents) request the pleasure of your company at the marriage of their daughter." (Names follow)

(Full name) and (full name) formally invite you to the celebration of their marriage.
Next, the main details of the day are listed in the following order:
Day, Month, Date, Year

Time (spelled out; example: four o'clock in the afternoon)

Venue Name

Venue Address

"Reception to follow"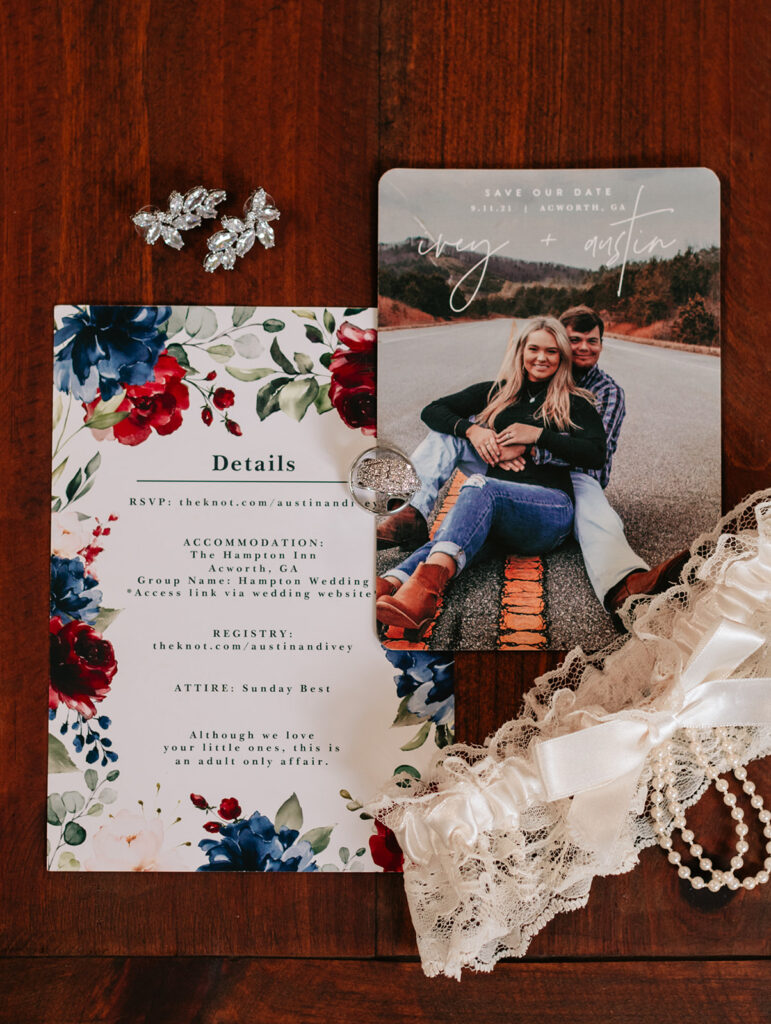 On a separate sheet, you'll need to include specific details of the wedding day. While you may think a wedding website has eliminated the need for this, unfortunately, many guests won't visit your website, and could possibly reach out to you directly to get the information. Trust us, you don't want people reaching out to you left and right when you're planning a wedding.
On the details sheet, include information such as:
The reception location (if it's different than the ceremony),

order of events during the reception (cocktail hour, dinner, dancing, sparkler send-off),

hotel accommodations (for destination weddings or guests from out of town), 

the web address of your wedding website, and/or

registry information (if not including on a different sheet itself). 
The registry information can be located on the details page, or on a separate sheet, depending on what you're wanting to include. If you've created an online registry, it might also be a good idea to include a QR code in your invitation, as well as the information on how to find the registry on the web. QR codes provide a simpler way for your guests to navigate to your registry, however, some guests might rather physically type in the web address. 
If you're having a honeymoon fund, it's a good idea to include a reason why, or a short poem explaining your decision on this, and asking people to contribute. There are tons of examples on Pinterest of ways to request money as a wedding gift in your invitations.
The RSVP should always be a separate sheet so your guests can send their response back through the mail and keep the formal invitation with all the wedding day information. The RSVP sheet can also include a QR code that takes guests directly to your website for easy access, or it can just include the address of your wedding website. 
You should always also include spaces for guests to fill in their name, their number of guests, and if they accept or decline so they can physically send the invitation back by mail if they choose to do so. Providing both of these options for RSVPing is your best bet at getting the most responses. 
On your RSVP sheet, you should also specify a date you would like your guests to RSVP by. This date should be 2-3 weeks prior to your wedding day, or whenever the caterer specifies. A helpful tip for RSVP cards is to number the card and assign a guest to that number. That way, if someone doesn't write their name (yes, it happens!), you'll know who they are by the number on the card. 
That should be all the information you need to include on every sheet of your invitations. However, there are a few more tips you should follow to create the perfect wedding invitations that you can be proud of for years to come. 
Get inspired by examples online. Aside from examples, there are tons of invitation

templates on Etsy

, catered to every style (boho, minimalist, traditional, dark and moody, floral, rustic, etc.)

Set a budget. While templates online might be inexpensive to purchase, printing the invitations can be costly. Get quotes from multiple print shops and get their recommendation on the best print material.

Be familiar with different print materials. Read online or look at examples of print material before choosing what you want to go with. There are different types of thickness, coatings, and finishes available. You don't want to print your invitations on regular printer paper.

Get pretty envelopes to go with your invitations. While your print shop may provide some, you might find something that better suits your style online. While there are many sites to choose from, sites like

Etsy

and

Amazon

can help you save money while giving you a ton of options to choose from.

Have someone with good handwriting help you address the envelopes. If you know someone who has great cursive handwriting, or who can do calligraphy, you can have professional-looking invitations on the outside too!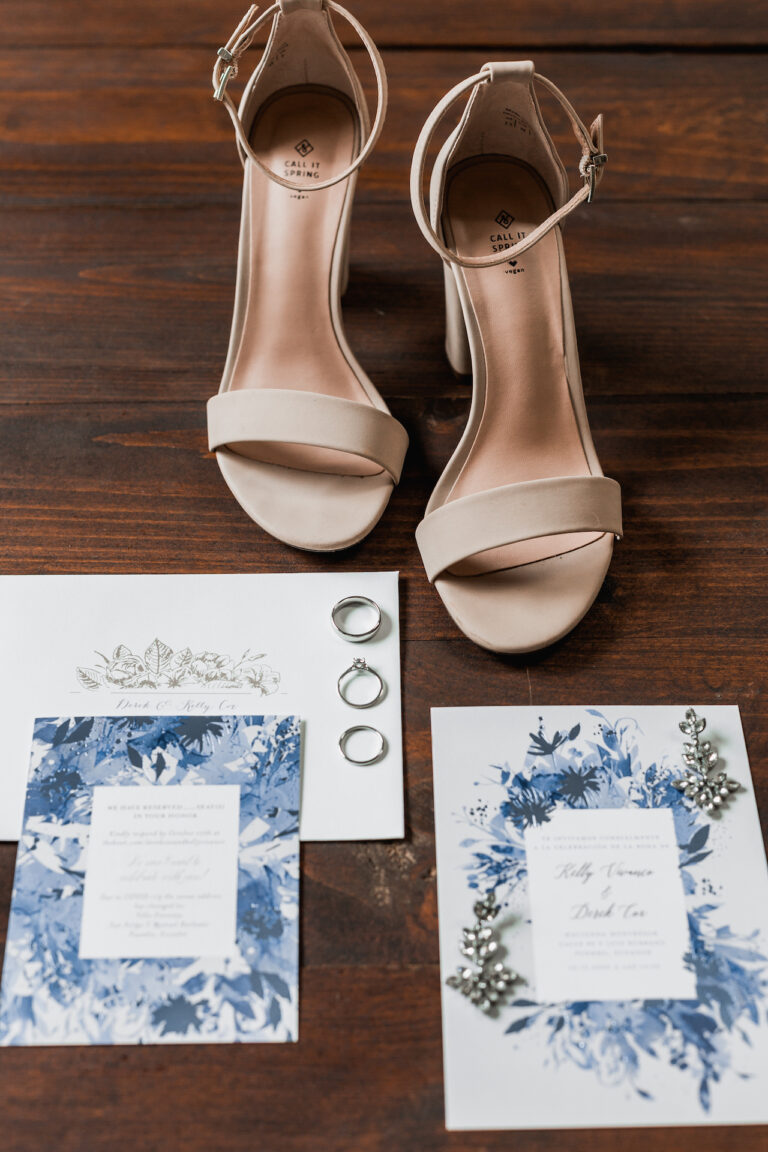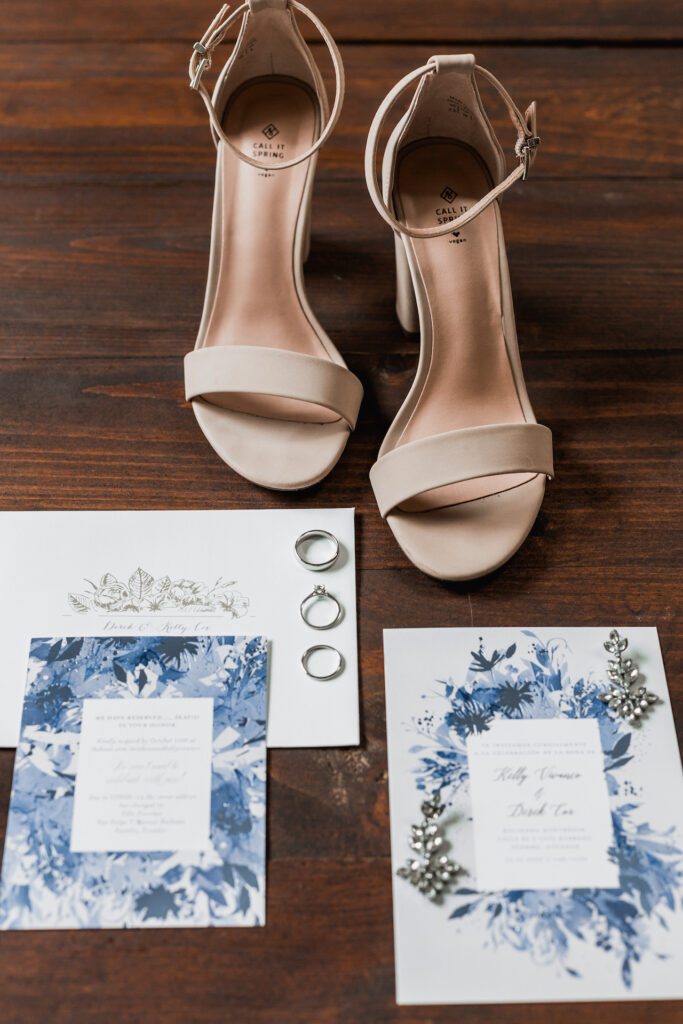 Photographer: Marc & Anna