Fall Wedding Inspo for A Gorgeous Autumn Affair
Fall is the most sought after time of the year to tie the knot, and there's no denying why. Whether it's the crisp cooler weather after a long hot summer, the gorgeous color-changing and falling of leaves, or the spirit of the holidays in the air making everyone happier – there are SO many reasons the fall is a great time to get married. If you're planning to get married in the fall, follow these tips for fall wedding inspiration and have a gorgeous autumn affair!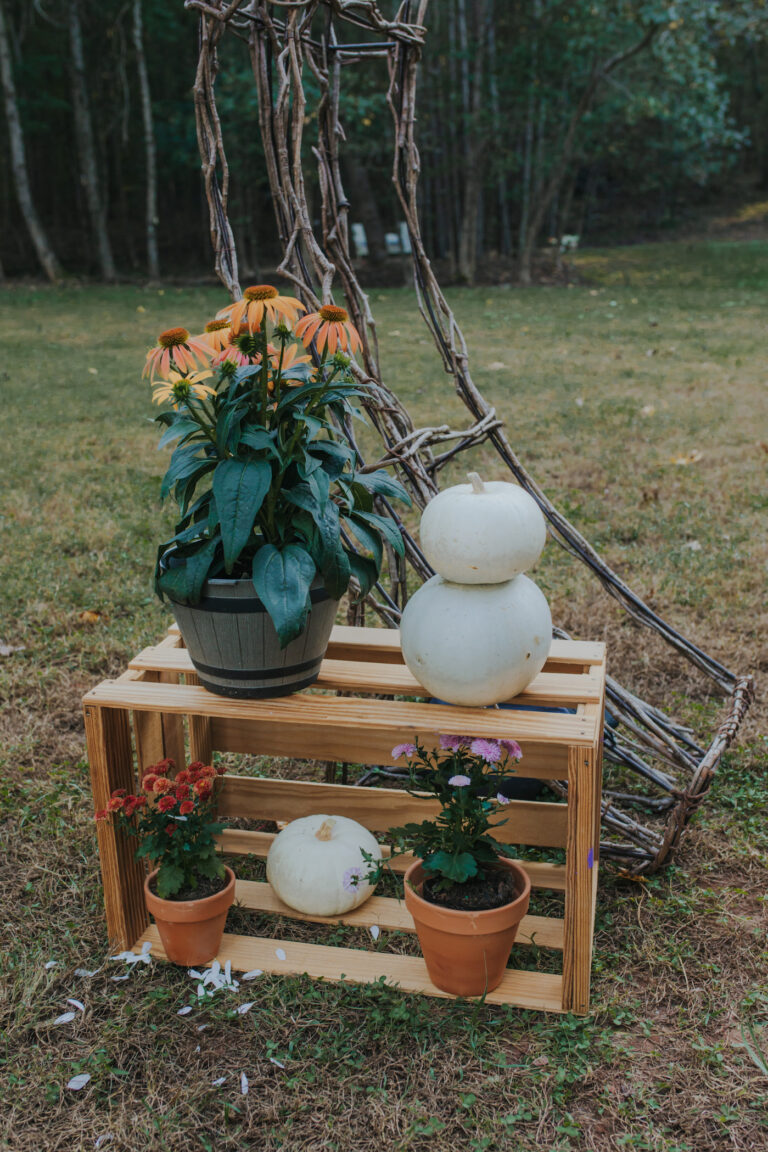 There's no denying pumpkins are the symbol of fall, so why not incorporate them into your fall wedding? There are tons of ways to incorporate pumpkins to instill the autumn feeling in your guests without going overboard. Use small pumpkins in your table centerpieces, place them around your welcome sign, or line them down the aisle. You could even use pumpkins as place card holders! If you don't want pumpkins in your decor, have them for dessert! Pumpkin pie is a fall staple that you shouldn't go without at your fall wedding!
Take full advantage of the best feeling season of the year with an open air ceremony and reception. Depending on the venue you choose, this doesn't mean you have to be outside! The Butterfly Pavilion offers a solution that puts a roof over your head without taking away from the elegance, charm, or cool fall weather you want your guests to experience on your wedding day. Our pavilion holds up to 250 guests so all your friends and family can be a part of your fall wedding as well. If you get chilly, take advantage of the fireplace, the space heaters, or the clear panels that close off the venue, but not the view. Contact us for more information!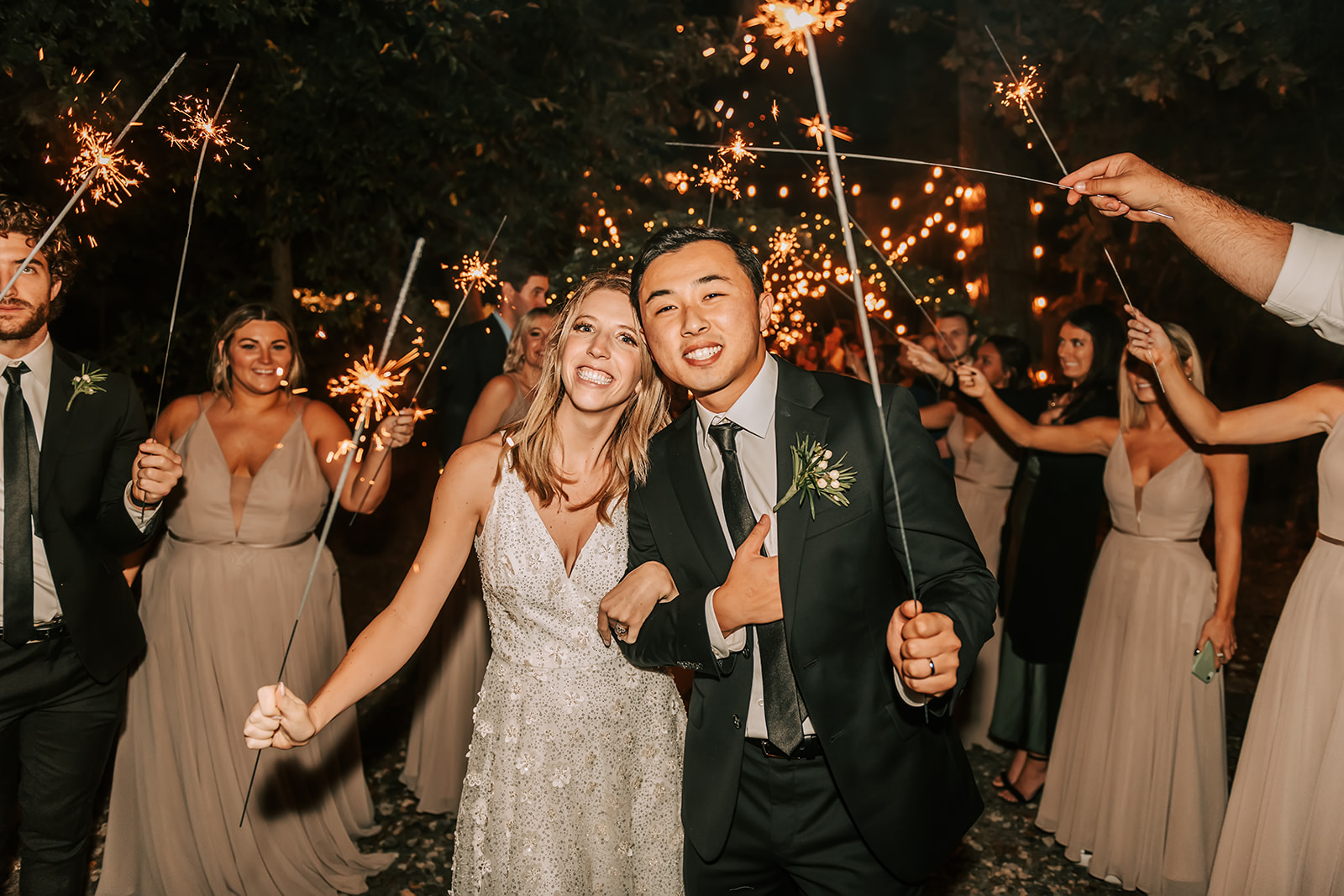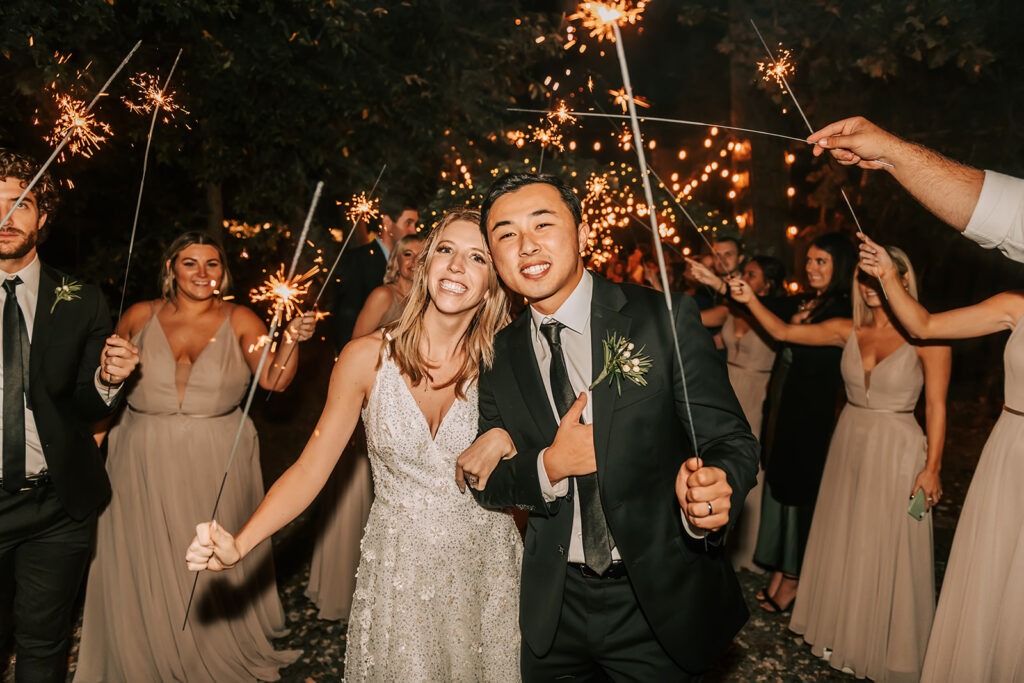 Exit your wedding day surrounded by the warmth of a sparkler send-off! This is the perfect way to end the night after a long fall day. 
There are a few things you can incorporate into fall weddings that can't be used for spring or summer weddings. Scarves and blankets are a couple of these items. They can be handed out before the ceremony to keep guests comfortable, especially outdoors on a chilly autumn day. You can also provide scarves, blankets, mittens, or beanies as wedding favors. Your guests will love this!
The best things about fall weddings are the beautiful color schemes! Mixes of reds, oranges, and yellows, magentas, dark greens, and pops of white… There are so many beautiful color combinations to use during your fall wedding that will really make it feel like autumn is in the air! 
For some reason, fall seems like the best time to bring in some textures! Velvet bridal shoes or ties, wool and tweed suits, patterned bridesmaids dresses, fuzzy shawls… anything goes during fall! 
Need one more idea for fall decor? Lanterns create a warm, cozy, intimate atmosphere, perfect for fall weddings! Use lanterns as table centerpieces, on the floor around the venue, beneath your welcome sign, on the dessert table, in a photo booth area, or lined down the aisle. If using them on the floor, get some wooden crates to stagger the heights for a more sophisticated look and a touch of wooden accent!
Fall is our favorite time of year at The Butterfly Pavilion! If you're looking for a premier indoor/outdoor venue to have your wedding at, look no further. We're booking for 2023 and 2024 now so schedule a tour and hold your date!
We are proudly locally owned and operated in Acworth, GA and can't wait to work with you! Schedule a tour on our website at https://thebutterflypavilion.com/contact-us/ and be sure to follow us on Facebook and Instagram.