10 Bridal Suite Must-Haves for Every Bride
What's debatably the most important aspect of the wedding venue you choose for your big day? The bridal suite. The bridal suite is where you'll spend most of your time getting ready, relaxing, hanging out with your girls, and generally preparing for the most important day of your life. To make your experience before your wedding ceremony the best it can be, you need these 10 bridal suite must-haves on your wedding day.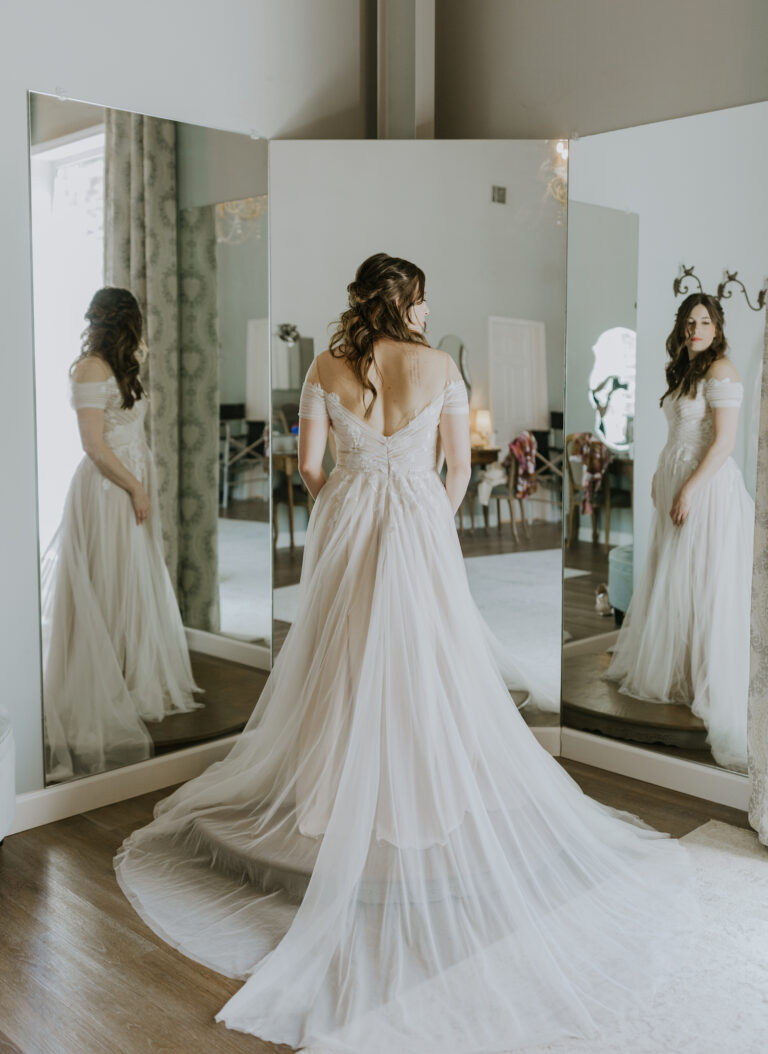 Trust us, you're going to be double and triple checking your makeup, hair, and attire on your wedding day, and you're going to want a big mirror to see how absolutely stunning you are! Floor-length mirrors are the best addition to have in any bridal suite, but even better is a 3 sided floor-length mirror like we have at The Butterfly Pavilion. View every angle of your gorgeous self on your wedding day with no distortions or cut-offs. It also makes for seriously high-end photos!
On top of needing lots of natural light for your makeup artist to perfect your wedding-day look, you need natural light to get gorgeous getting-ready photos of you and your girls as well. You should make sure the venue you choose has a bridal suite with windows. Keep blinds and curtains open, and keep overhead lights on while you're getting ready to get the best lighting possible. 
At The Butterfly Pavilion, our bridal suite has floor to ceiling windows to let in tons of natural lighting. We also decorated our windows with floor-to-ceiling curtains so they look elegant and beautiful!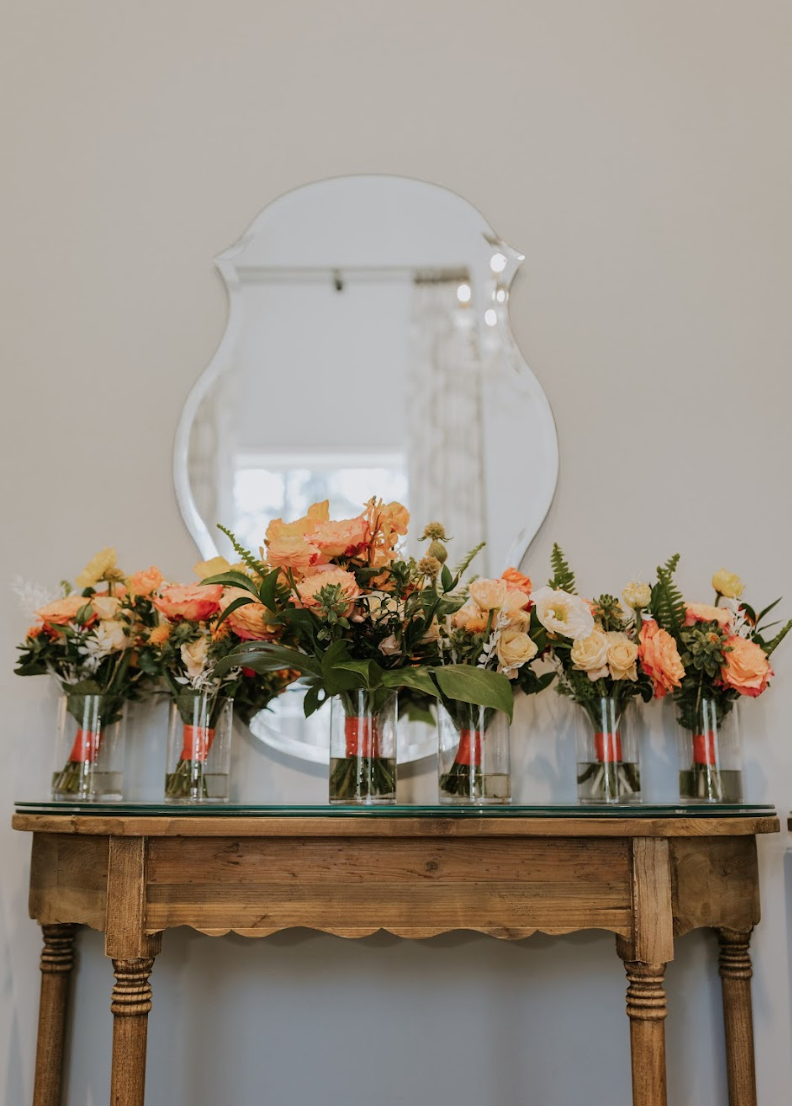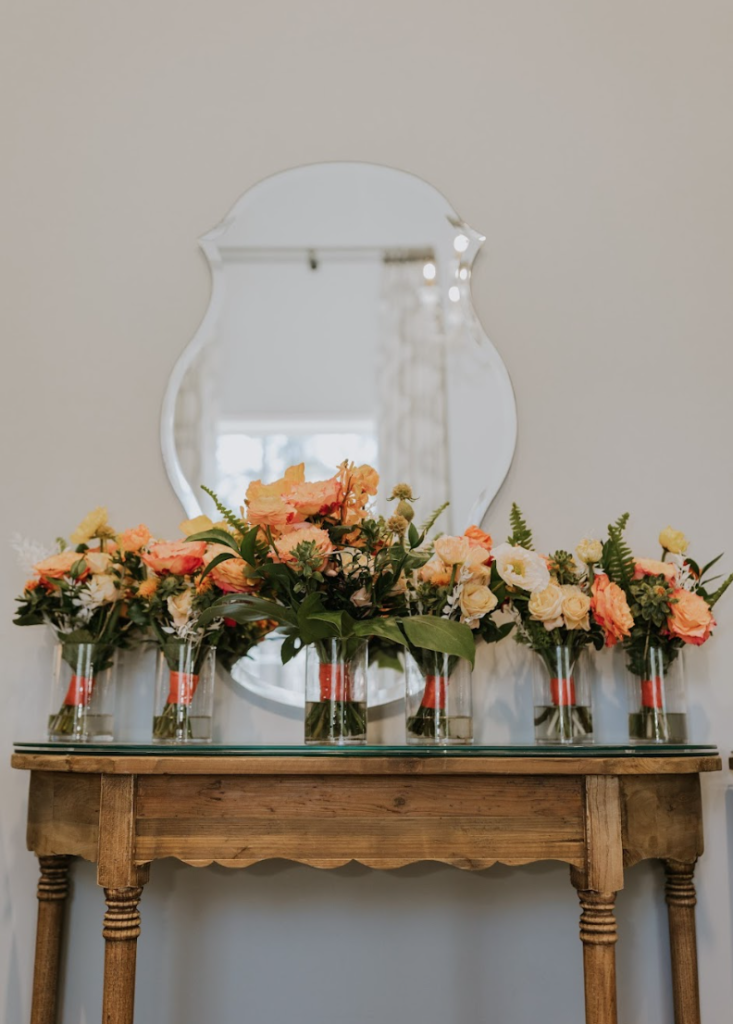 3. Getting Ready Stations
Having multiple getting ready stations for your girls to use can be a big help in the area of time-management on your wedding day. Most of your time spent during the day will be for getting-ready, and with multiple getting ready stations, you'll be able to do this quicker and have more time for photos, dancing, or figuring out some breathing techniques to calm your wedding day nerves! 
Our bridal suite at The Butterfly Pavilion has multiple getting-ready stations, each with their own dressing table, mirror, and chair. Our stations provide the perfect mix of modern antiques to give you that elegant, southern charm that's perfect for your getting-ready photos!
Another aspect of a great bridal suite is having some furniture pieces that will allow you to sit down and relax. Chairs are always good to have, but a couch is even better! With cute furniture, you can also take great photos of you, or of you and your girls together. The Butterfly Pavilion has a set up of chairs and a couch in our bridal suite, so there's plenty of space for everyone to have a seat and relax before the ceremony. 
A bathroom that's easily accessible from the bridal suite is especially important for those who don't want their groom seeing them before the ceremony. However, it's also highly convenient to be close to a bathroom, especially when you'll be there all day! At The Butterfly Pavilion, the bathroom is easily accessible beside the bridal suite for simple entry for guests during the reception, and for you and your girls while you're getting ready. That's a win-win!
It's never a bad idea to have snacks for you and your girls to eat throughout the day; and what better way to celebrate getting married than with mimosas!? You're going to get hungry throughout the day, so have a mom, family member, or friend bring snacks to the bridal suite while you're getting ready!
Surprise your girls when you get to your bridal suite with adorable matching robes or pajama sets! Have them hanging up, laying across the couch, or folded up in a gift bag. These are the perfect gifts for your girls that they can wear in the bridal suite all morning and afternoon while getting ready for the big day.
You absolutely must have a steamer in your bridal suite, if not for your own dress, for others' dresses! You don't want to walk down the aisle in a wrinkly dress and you don't want your bridesmaids' or mothers' to be wrinkly either. Once you're done with the steamer, send it over to the groom's suite if necessary. Everyone can benefit from a good steaming! Remember not to steam too closely to your dress so you don't leave water spots.
After steaming your dresses, you don't want to have to lay them down over furniture, taking up space for food or relaxing, and you don't want to hang them on door frames where they might get knocked down. This is why it's a good idea to choose a venue with hooks on the wall where you and your girls can hang your dresses. This can also make for cute pictures!
It's going to be a long, emotional day, so having tissues in your bridal suite is a MUST. Designate one of your gal pals to bring a box of tissues for you on the big day. It's best if the tissues are lint-free so they don't leave remnants under your eyes that can mess up your makeup. Remember to give your mother one before you walk down the aisle!
The gist of it is, you want to find a bridal suite that's both functional and picturesque. If you're still looking for the perfect venue, check out The Butterfly Pavilion! Our bridal suite is one of our venue's most beloved features! 
Booking is open for 2023 and 2024. We are proudly locally owned and operated in Acworth, GA and can't wait to work with you! Schedule a tour on our website at https://thebutterflypavilion.com/contact-us/ and be sure to follow us on Facebook and Instagram.